Top Places to Visit in Sri Lanka
Kandy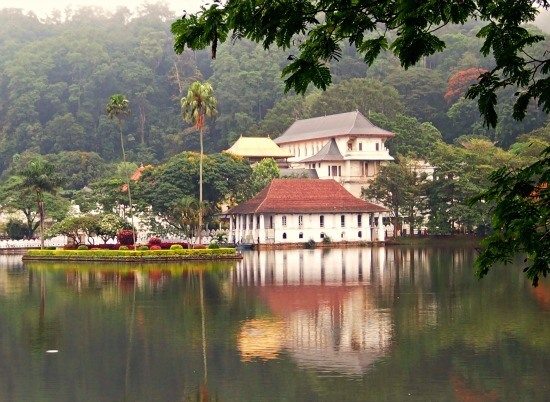 You can keep yourself busy in Kandy for a week easily, or just fly through for the Temple of the Tooth. There are loads of things to do here and they're in these posts Things To Do in Kandy and Not Visiting The Temple of The Tooth? Try the Free Devales.
Sigyria
Sigyria is magnificent. A formidable rock topped with an ancient palace towers 200m above the surrounding landscape. Visitors climb precarious stairs past the ancient frescos of dancing-girls before finally mounting the iconic lion paw stairway to the highest point. It's a wonderful day out, I liked it so much I've been twice , but we didn't take the kids last time. There were 3 reasons: it's a bit of a hike north of Kandy, it's not far from Dambulla and if you had a driver or took a tour you could do both in one day, but public transport wouldn't really allow that. Secondly the admission charges are on the high side and my third reason, bizarrely, is thehornets. Sigyria has a reputation for large aggressive Asian hornets that can attack in large numbers if disturbed, so much so that they rent out anti-hornet suits. My kids are not quiet and don't move slowly, they're guaranteed to wind up even the most laid-back hornet, so last year we gave it a miss, maybe next year.
Pollonaruwa
The ancient city of Pollonaruwa is another UNESCO world heritage site, it lies 83 Km north-east of Kandy as the crow flies. We've never been to this one, I'll let you know what it's like when we do.
Anuradhapura
Slightly further away from Kandy and almost due north is Sri Lanka's other ancient city Anuradhapura. Again, we haven't been as yet. I hear that tuk tuk drivers can take you on a tour that doesn't involve an admission charge, instead your money will go to your driver. You can buy a combined ticket for the ancient cities and Sigyria that gives you a big saving. Children are either free or pay half price for all the above attractions. I'm finding it very hard to find accurate information on prices, sites are giving me conflicting information, some sites are saying $35 each, others $25, I don't know who to believe.
Galle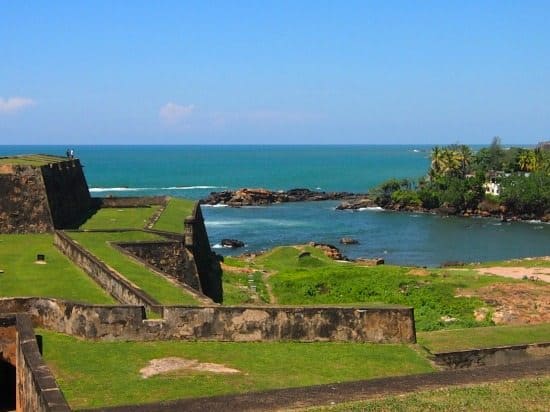 Galle is wonderful. It's not just about the fort, the beautiful colonial buildings and the fancy little boutique hotels and coffee shops that have sprung up within its walls. Try to get over to the town for the markets and walk along the waterfront to see the fishermen selling their catch. There are a couple of free museums within the fort walls that are worth a look.
To find out more, see our post on things to do in Galle.
Dambulla
This one I've been to 3 times and yes, we took the kids. Admission charges are lower, it's well worth seeing for the amazing cave temples and Buddhas and it's also a lovely walk up the hill with plenty of wildlife to spot. Other than the ubiquitous monkeys, we saw a giant tree squirrel, a very cool animal indeed. I have a whole post about Dambulla and getting there from Kandy.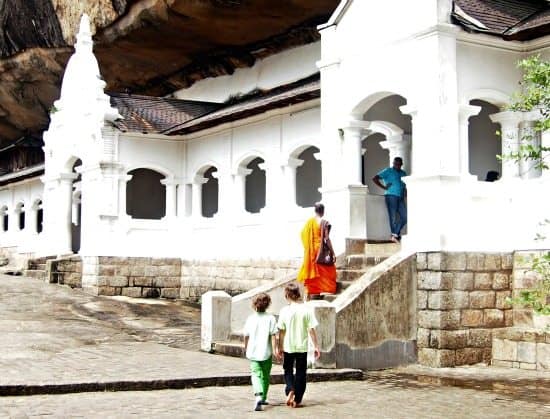 Pinewalla Elephant Orphanage
This has to be THE place to take the kids in Sri Lanka, yet my two still haven't been. Just circumstance and lack of funds, we'll be going in 2015. The image at the top of the page shows the elephants taking their daily bath, be sure to catch the elephant walk down to the river.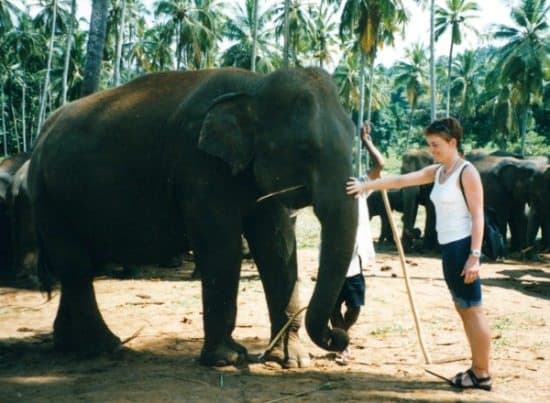 Mirissa for Whale Watching
There was no way we could miss this!
Mirissa is possibly the best place in the world to see blue whales, a creature I never dreamed I'd ever see. We had a wonderful day out, it cost us around $100 total and we'd do it all again. There is a whole post dedicated to whale watching in Mirissa, we also recommend this little town as a lovely place to stay, it's my favourite.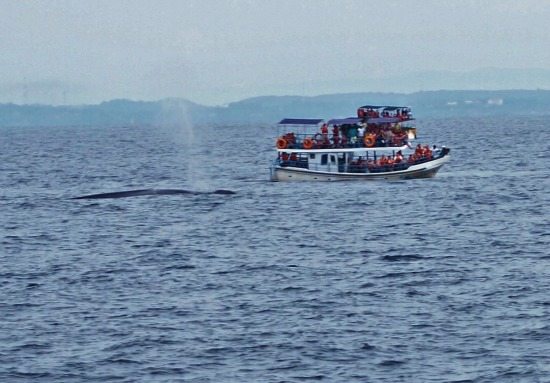 Adam's Peak
Adam's Peak is also known as Sri Pada and is Sri Lanka's holy mountain. Click through here formore information.
I've wanted to climb Adam's Peak since my very first visit and never have. I'm quite annoyed with myself about this one. It's a pilgrimage site and a lot of steps are involved. We had heavy rain in 2014, that changed our mind about going, but one day I have to do this walk.
Ella for Little Adam's Peak, Tea Plantations and Ella Gap
Staying in Ella was a wonderful break after the heat of the coast, it was cool and refreshing, good walking weather. There is plenty of exploring to be done up here among the tea plantations. I have two posts dedicated to Ella, Little Adam's Peak and Exploring Ella on Foot.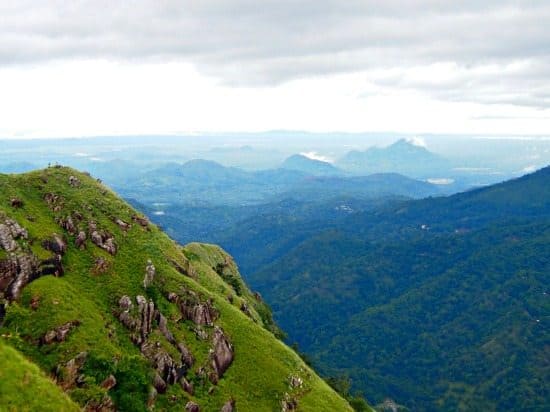 Nuwara Eliya
We passed through Nuwara Eliya on the train from Ella to Kandy but decided not to stop. It's billed as "Little England" for its cool hill country climate and colonial architecture. Maybe next time.
Turtle Hatcheries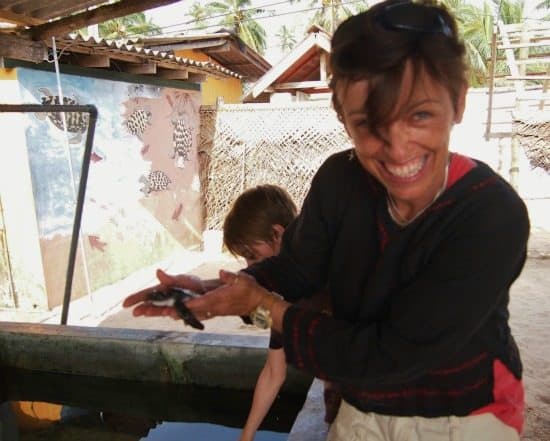 The jury is out on the ecological and ethical impact of the many turtle hatcheries that have sprung up around Sri Lanka. They try to increase survival rates for the 5 species of magnificent sea turtle that visit Sri Lanka's coastline. I would encourage you to do your own research on the facility you plan to visit. We have visited a small free-to-enter turtle hatchery on Mirissa beachand a touchingly family run place just north of Hikkaduwa near the Tsunami Memorial.  TheKosgoda Sea Turtle Conservation Project is highly recommended and is the one all the tuk tuk drivers will want to take you to, I visited this one in 1998, it was excellent and we plan to go back next year. You can get involved in nocturnal turtle release via this hatchery.
Try walking along the beaches after dark, you may spot a female laying, I did once. Be sure to stand well back and not interfere, it's a magical experience.
Yala National Park
Sorry to say, we still haven't been here. It's quite a trek down to the south-eastern end of Sri Lanka ( 22o Km from Colombo) and it's a fairly costly excursion to make, last time we were there at the "wrong" time of year ( Sept-Nov). We will most certainly be visiting in 2015.
Here you will find the highest leopard concentration in the world although chances of seeing a big cat are still relatively slim. You can also spot wild elephants, deer, crocodiles and boar.
There's So Much More to Sri Lanka
Looking for a place to stay in Sri Lanka? Start your hotel search here.
Sri Lanka is far more than the sum of her big attractions. The joy for me lies in just being there, wandering, exploring, using her trains and buses and interacting with the wonderful Sri Lankan people.
There are some attractions not on my list, we've never been to the east coast or the far north, few tourists do. The 2nd big national park, Wilpattu in the north-west, isn't mentioned, nor are the collection of smaller parks that litter the island. Next year, 2015, we hope to really explore, get to the less visited areas. I will update this post as we go.
Wherever you go you will find things to do, I'd actually suggest going easy on the big draws and just getting to know Sri Lanka instead, less rush, more knowledge. It's how we like to do things.